How it works
NEXT STEP
1.

Expectations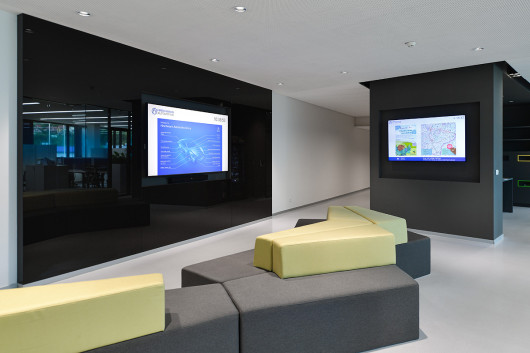 If you think long and hard about making changes to your workspace, it may soon be too late to make any changes. Especially when every employee works differently but at the same time expects to be part of the same team. The only way to get an imaginary door to a new, different, better work experience is to have an open mind and a willingness to do something different. Collaborative workspaces conveniently complement the emptiness we feel while working from home. They create energetic, motivating, inspiring, empowering and safe places where people communicate, collaborate and create brand new ideas easily and flexibly.
2.

Questions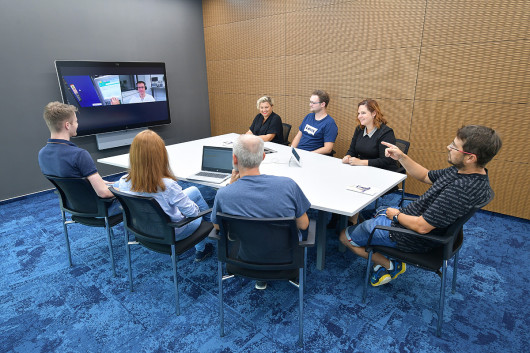 If you decide to change workspaces, the questions below will help you to get the best result.
What are the needs of your leadership teams? How much workspace do you really need? How have workspace occupancy rates changed due to hybrid operations? What new challenges has hybrid work brought? Will redesigning existing workspaces help make future work more efficient? How have people's needs changed? What equipment could support greater employee well-being? What technologies need to be integrated into workspaces? Who can comment competently on the current and future state of play? How to make employees feel part of the change? Who will lead the change and the workspace design process? How much money can you invest in changing workspaces?
3.

Benefits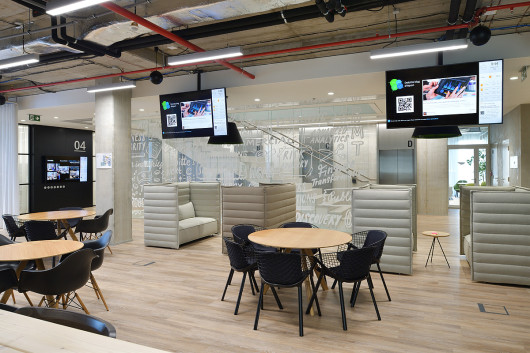 FOR ORGANIZATION
Increasing employee well-being, taking flexibility and productivity to a new level or positively impacting company culture. Optimising size, sustainability, availability, restructuring and reducing workspace overheads. Creating high-performing and engaged teams of people who desire change and will actively implement the change themselves.


FOR EMPLOYEES 
The more committed people are, the better and more thoroughly they will do their job. It's simple. Design collaborative workspaces where people feel comfortable and proud to say it's their second home.  
Small changes in the workspace can make a huge difference in creating an inclusive environment where people feel part of something bigger than themselves. 
4.

Space zoning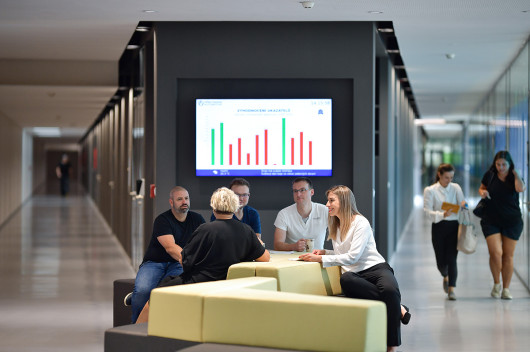 Imagine office spaces as studios, laboratories, study rooms, rest and relaxation areas or informal meeting zones. It's places like these that people like to return to again and again - they exude a positive vibe, a real human touch and are the birthplace of original thoughts, ideas and innovations. These spaces become home bases for people, teams, departments and entire divisions. They are characterised by the diversity and connectivity of the different spaces, which support different types and scenarios of work.
5.

Types of spaces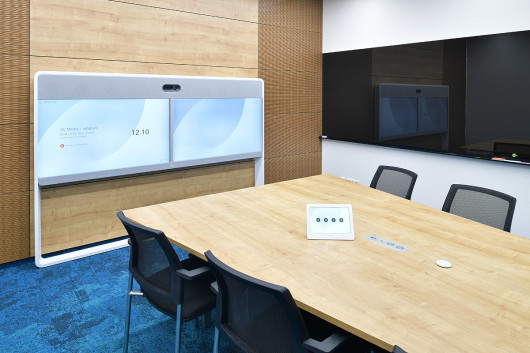 Collaborative spaces: (studios and labs) = an equitable and inclusive experience for all. Opportunity to share digital or physical content. Opportunity to naturally interact and collaborate with remote participants. Opportunity to equitably and actively engage both in-person and remote participants (discussion, brainstorming, co-creation, etc.) Opportunity to educate each other.
Concentration spaces:
Study rooms, rest and relaxation areas = engagement, focus and the opportunity to stay in the flow of events  

Opportunity to focus on individual work and tasks   
Meeting spaces:
Informal zones = sense of belonging and emotional security

The opportunity to connect personally with the community and chat informally

Opportunity to personally connect teams and cross teams

The opportunity to personally experience the company culture, flexibility, comfort, trust and emotional security
What solutions are you looking for?
Contact us and we'll figure out the best one for you.
Stay up to date!
Follow our business-focused social media.