How it works
NEXT STEP
1.

IoT sensors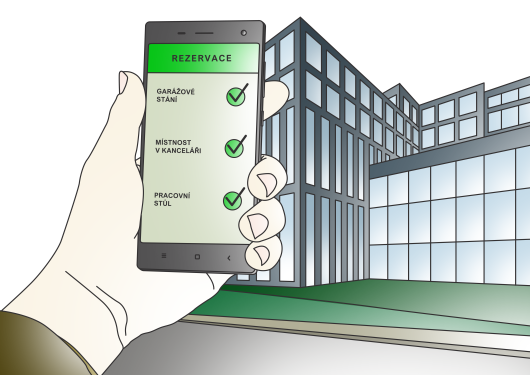 The foundation of any smart office is IoT sensors. Sensors are mainly used to detect movement or occupancy in a specific space. They collect data and communicate with software platforms to analyze and provide clear visual reports on office usage. With IoT sensors you can have many other smart outputs and features that collect, store and analyze data on the usage of almost every part of a smart office. Sensors help manage and analyze lighting, temperature control, number of participants in a room, desk reservations, camera monitoring, to parking reservations or relaxing wellness space.
2.

Smart rooms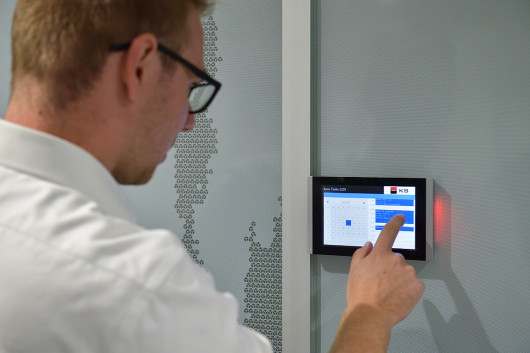 Smart Rooms combine a range of smart features to streamline and improve the flow of meetings between employees. The meeting management platform monitors the use of office spaces such as meeting and conference rooms, desks, phone booths or small spaces for focused work. All of these spaces can be booked in the online booking system or directly on the dashboards located at the individual room or desk. Booking is fast, clear, simple and allows users to search for spaces based on size, occupancy and amenities. In addition, display kiosks located in hallways and common areas show who is currently using the room, what the upcoming reservation is, for what purpose and for how long, or you can simply find your way to the currently booked room.
3.

Smart tables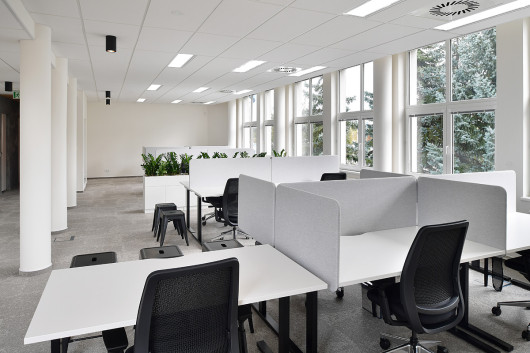 Smart tables are the siblings of smart rooms. Like smart rooms, smart tables are bookable via an online booking platform. Smart desks are most useful in offices where desks are shared between people. Smart desks not only help employees find a free desk for the day, but they can track the bookings of other people who are or will be in the building and arrange ad-hoc meetings with them to discuss important tasks in person, for example. Some smart desks offer the option of sitting or standing and remember each user's preferences. Sensor data gives managers insight into the availability of each area of the operation and department.
4.

Smart lighting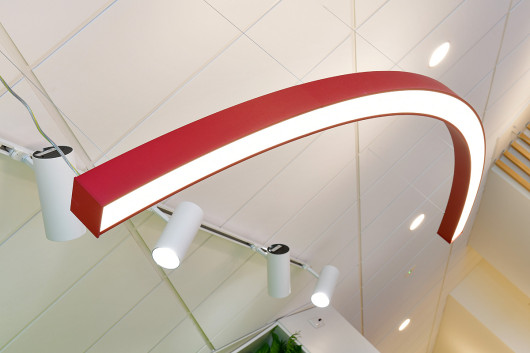 Smart lighting is the first step companies are taking in upgrading their office environment. This is because smart lighting has the potential to reduce energy costs by up to 90 percent. Smart lighting consists of five key functions: LED lighting, IoT sensors, connectivity, analytics and intelligence. IoT sensors detect movement in the room and turn lights on or off accordingly. Lighting controls automatically adjust lighting levels relative to the natural daylight levels. The new generation of smart lighting allows any user to turn lights off and on, control lighting intensity, and even adjust the color of lighting from their smartphones.
5.

Smart climate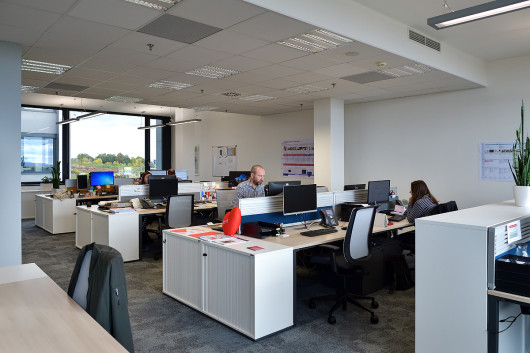 You'll probably never agree on an air conditioning temperature range among all employees, but you can agree on smart A/C control. Smart HVAC systems detect usage patterns in the office and automatically regulate the temperature accordingly. This increases system efficiency and reduces your carbon footprint while increasing employee comfort and satisfaction. Some smart A/C systems go even further than IoT sensor-controlled temperature by providing some control to employees who are currently working in the office space. This is because the temperature in the office can have a significant impact on employee productivity and morale. The optimal working temperature for one employee, is not necessarily the optimal working temperature for all.
What solutions are you looking for?
Contact us and we'll figure out the best one for you.
Stay up to date!
Follow our business-focused social media.