Hybrid education is no longer just a covid matter
The ideal is to have all the students in the class and teach normally. But even without the pandemic, there will always be some students who are absent for a long period of time ( oncological diagnoses, severe injuries, perhaps a long stay abroad, etc.). So far they have had to study alone at home and catch up in a difficult way. Online learning has opened up new opportunities to involve such children in mainstream education.
Mixed learning standard: user-friendly environment for teachers, pleasant and normal school environment for students in the classroom and at home.
The teachers normally use their teacher's computer for teaching, or they bring their laptop to class and simply plug it in. With the help of the interactive whiteboard, the software and the activities used, the teacher engages the students in the classroom and at home. They can move around the classroom without restrictions when explaining and communicating with the class, and even the students at home can hear them. If the teacher wants to share a practical experiment or writing outside the interactive whiteboard with the pupils at home, for example, he/she can select the preset options of the rotating camera with just one button. Pupils in the classroom and at home can hear each other and interact normally (the social aspect of teaching).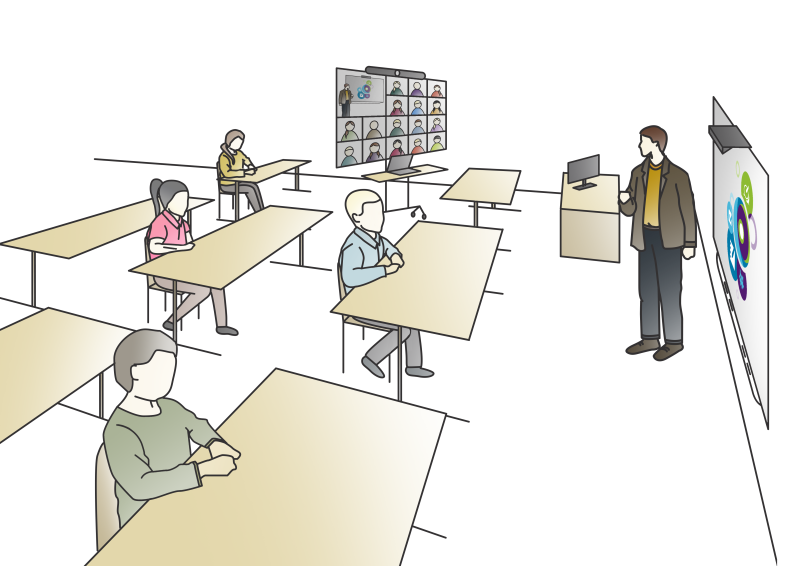 What solutions are you looking for?
Contact us and we'll figure out the best one for you.
Stay up to date!
Follow our social media focused on education.