If you have not moved at least partially into the online world with your business in the past two years, it is as if you do not even exist. Do you know how to make the most of the internet environment for yourself and your company and open the door to new opportunities?
In addition to bad experience, the ongoing pandemic has brought at least something good – thanks to it, many companies have adopted online technologies in a way they could not even imagine it before.
If yours is not one of them yet, grab the opportunity now and do not miss the train!
ONLINE WORLD BROUGHT VIDEO CALLS AND VIRTUAL REALITY
There have been so many new technologies in recent years that you may be losing track of them. While some can be considered more of a fad and you can safely ignore them, others have completely taken over the internet space and thanks to them businesses are working and making money even in difficult times.
Which technological trends are those?
Online meetings and video calls – Businesses could not function without them during the pandemic. Applications like Zoom, Microsoft Teams, or Skype connect hundreds of millions of people around the world every day and they do not have to meet in person. We believe that this trend has not missed you either. 
Online events – Conference halls full of people had to go away during the pandemic and were replaced by online events and hybrid events. A number of companies kept using them even after the biggest lockdowns were long gone. Virtual events are joined by participants from all over the world, which saves a lot of time and money.
Virtual reality and extended reality – Recently, the virtual world has been mentioned mainly in connection with Facebook and its future metaverse. But the private sector has actually been using virtual and extended reality for a long time. An example is our oneAVstudioXR, which can turn an ordinary event into an attractive show full of breath-taking effects.
Extended reality – As opposed to virtual reality, it makes it possible to change and interact with the environment in real time.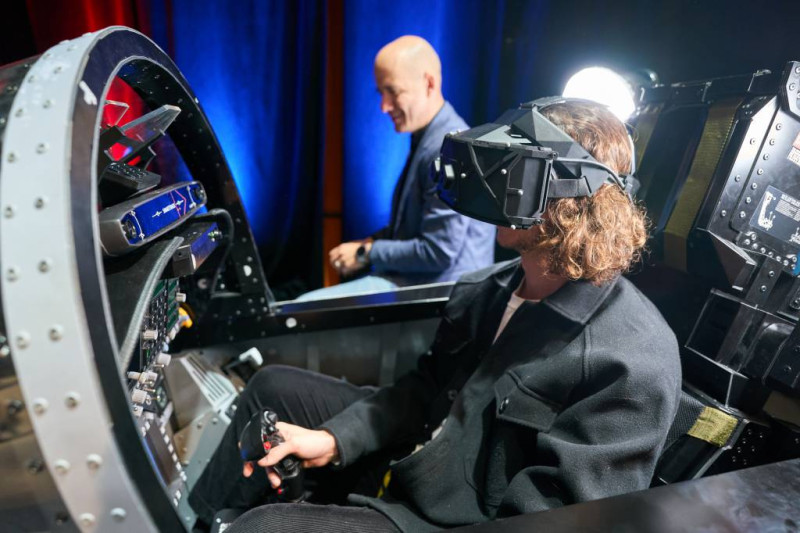 A SMALL VIRTUAL STUDIO OR IMPRESS YOUR CUSTOMERS
It is online meetings, online/hybrid events and virtual/extended reality that are driving today's business. But how to grasp these phenomena to give you an edge over the competition?
For conventional one-to-one online calls (for example, when two employees are on home office and want to talk to each other), it is easy. In that case, it is sufficient to use platforms such as Google Meet, Zoom or Microsoft Teams. 
But what if you need to accurately present your product to a customer you really care about? An ordinary "call" application is not enough for that. For a perfect presentation, lecture or larger company meeting, we recommend a small professional studio with which you will impress. Its preparation is not difficult and you can start it practically anywhere.
Did you know that we can set up a small studio for a company, hotel or school at AV MEDIA EVENTS? We call it the Mobile Virtual Studio and it is perfect for webinars, presentations, training and festive occasions. We will build it within an hour and it will provide your small online event with quality sound, image, perfect graphics and professional lighting.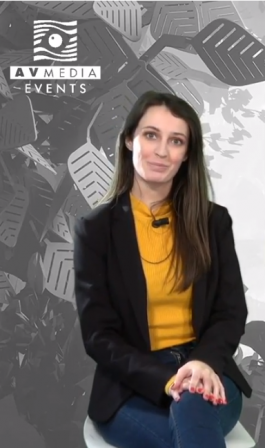 ONLINE AND HYBRID EVENT AS A WAY TO SUCCESSFUL BUSINESS
If you were worried about organizing a big corporate event (such as a conference) in the times before Covid, the last months and years have given you a great opportunity for change.
Online and hybrid events are now commonly organized even by smaller companies, without having to spend long months preparing such an event. You can have the event studio prepared by professionals, who will provide you with the background and provide important advice.
How do online and hybrid events differ? While the former takes place completely remotely, the latter combines a conventional live and online event – some of the performers and viewers are physically located in the studio, some join the event remotely. We have written a whole article about hybrid and online events.
TIP: If you run out of ideas when organizing a virtual event, feel free to get inspired by the world's best.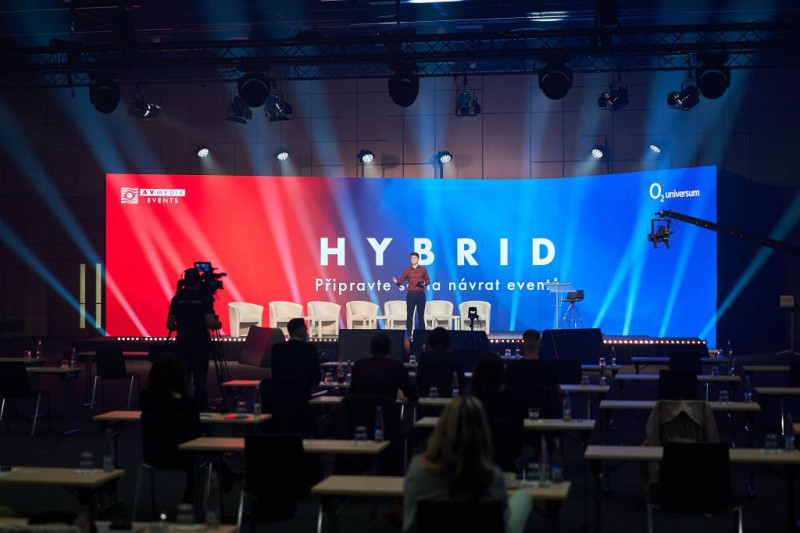 HOW TO PREPARE FOR A VIRTUAL EVENT
At first glance, planning an online event looks complicated, but the opposite is true. Just keep a few basic points in mind and you will make even your first virtual event unforgettable. Below we have useful tips for you on how to prepare for an online event.
promote the event well in advance using online and offline channels
have a platform prepared through which event participants will register – try the demo version HERE! 
choose a high-quality studio that will turn your event into a real show
rely on a stable broadcasting platform with no outages and intruders
think about the event script
emphasize top graphics and clear presentation of sponsors
At AV MEDIA EVENTS, we will be happy to help you with all the steps in preparing an online event.
THOSE WHO RESPONDS TO CHANGES QUICKLY WIN
Great, now you know how to make the most of the online world for your business and get one step ahead of the competition.
Do not forget that in today's fast-paced world it is important to respond flexibly to any change. So do not be afraid to experiment, even with new technologies. After all, we at AV MEDIA EVENTS experienced one such quick change last year, when we unexpectedly had to reorganize a live employee conference into a virtual one. 
So yes: right now is the right time to organize an online event. We will be happy to help you with this.