WPP Office Campus
The impressive workspaces designed in a functionalist house in Bubenská Street in Prague.
All companies today need to free themselves from WHERE people need to WORK and focus on WHERE people want to WORK. When you create great workspaces for individual work, team collaboration and co-creation of new ideas, people will be excited to return to such workplaces and do their best work.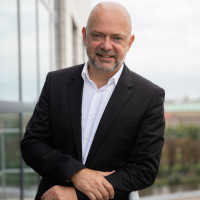 David Lhota, Country Manager of WPP Czech Republic
The move to the newly refurbished premises has opened up the opportunity to build a brand new impressive and flexible office space that suits all members of the group and offers new opportunities and ways of working in a hybrid mode. Each agency now has ample workspace to themselves, while being able to use other spaces that are shared with each other.
Exactly such experience of workspaces is offered by WPP in Prague's Bubenská Street. The key to meeting the needs and wants of employees and managers is in the so-called hybrid working strategy, where the workplace is used as an "office campus". Work is continuously carried out at the required times, but in a working environment that people choose themselves. The main role of the WPP office campus is to provide people with the opportunity to meet and learn from other people. Working in a hybrid mode is based on the desired outcome, not on time or physical location.
Jan Keblůšek, IT Operations Manager of WPP Czech Republic
Nowadays, any of our users can easily connect to any meeting room. A hybrid way of working and hybrid meetings have become the new standard and the communication technologies are making our lives easier. Video conferencing is fully integrated with the Microsoft Teams platform, which we use as the main communication tool across all WPP members. In rooms designed for hybrid team collaboration, we use LG and Samsung displays, Poly video systems and the Crestron sound systems.
The biggest challenge for leaders and managers is to develop new types of skills and work practices that encourage diversity and inclusion in all types of workplaces so that everyone understands that it is not necessary to have employees in front of you in person. This new sense of belonging becomes a challenge as you have to move more away from synchronous face-to-face interactions and rely more on video calls and asynchronous communication tools and platforms.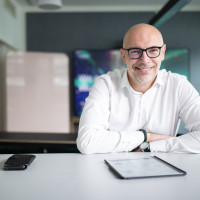 Bronislav Kvasnička, Managing Director of Wunderman Thompson
The huge advantage of WPP's office campus is that we were able to start meeting in a virtual, physical and hybrid way from the first day we moved in. It brought an immediate change in our perception of the workspace – we gained new contacts and strengthened existing ones, which was immediately reflected in our later business. We are now able to create ad-hoc teams, across campus and across agencies
Members of WPP: GroupM, H1.cz, KANTAR, MediaCom, MC2, METS, Mindshare, Ogilvy, RedFuse, VMLY, Wavemaker and Wunderman Thompson are allowed to choose the work style that best suits their personal and professional focus while developing a work-life balance. One approach will not work the same for all roles, teams and individuals, so there is a need to constantly experiment, listen and learn new ways of working and scenarios, and adapt to rapid change.
The impressive and flexible workspaces designed in a functionalist house in Bubenská Street in Prague show that a strong, positive and healthy company culture can be built regardless of the geographical distance of all its members.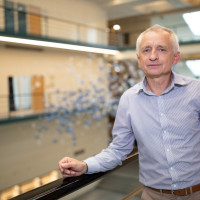 Martin Zikmunda, Business Consultant of AV MEDIA SYSTEMS
The major challenge was not only to accept the needs and wishes of WPP, but also to comply with all the constraints that came with the campus building itself. The building is situated in a protected historic zone, where audio and video technology needed to be integrated in a very careful way, preserving the historic elements of this exceptional building.

WPP Czech Republic
Deployed products
List of deployed products