New times call for new skills
The Prague Regional Education Action Plan did not remain just a vision of introducing innovative methods in education within the "big Prague".
Encouraging pupil, student and teacher initiative and creativity: 15 interactive learning centres (ILC) are being created, places for schools to get together, try out new technologies and share experiences of introducing new elements into teaching.
The first ILC opened in the city at the end of May at the College of Information Studies (VOŠIS) and Secondary School of Electrical Engineering, Multimedia and Informatics in Prague 9, the second at Secondary School of Automotive and Informatics in Hostivař, and now in September the third one opened at ZRAK Primary School and is being built at Na Pražačce Grammar School. By the end of May next year, a total of 48 modern classrooms, interactive learning centres, are to be built in 15 schools. The ILC project involves grammar schools, technical secondary and vocational schools, special schools, primary art schools and a conservatory. 
Four modern classrooms, each supporting a different type and style of learning, were created in each secondary school. There are two centres in special schools and arts schools, where a centre means only one multifunctional classroom.
WHAT DOES THIS MEAN FOR SCHOOLS?
Teachers will gain support, the necessary competences, learn how to use technology in their regular teaching practice and discover that a well-designed and technically equipped classroom can be a real partner for their work. Students will significantly advance the quality of their professional training and learn to work with the state-of-the-art technologies. Last but not least, the individual schools will open their doors to teachers from other schools and in thematic meetings they will introduce colleagues to the potential of individual devices and equipment and inspire them to enrich their teaching by using modern technologies.
Multifunctional classroom
But what about special schools and arts schools that have only one ILC classroom combining elements from these four types of classrooms? In the ZRAK Primary School, we have created an ILC in one large classroom, with a so-called nest for individual learning. The goal, among other things, is to find appropriate teaching methods for heterogeneous groups of pupils with special needs. The technological equipment of the classroom allows the teacher to develop the skills of all pupils according to their individual abilities and needs, while keeping up with current modern technologies. 
The presentation space in this classroom can be divided into two zones. The first one contains a large interactive display and a digital whiteboard, and teaching here is designed for collaborative learning and presentation of results. In the second zone, the teacher has a smaller interactive display on a mobile drive, for example for group work. The standard of the teacher's workstation is also maintained here - a teacher´s desk with two slide-out monitors, a teacher's PC, a portable microphone, a visualiser and a multifunction printer. The student area is in the classroom.
FOUR UNIQUE EDUCATIONAL SPACES
There are always four highly equipped classrooms in secondary schools. These classrooms were designed to create spaces equipped with a variety of state-of-the-art technology and to be usable for as many different subjects as possible, i.e., for all educators, and no one has to be afraid of them. Much attention was therefore paid to creating a welcoming workplace for teachers - an educational guide that represents the ideal standard for the 21st century. 
Thus, the teacher has a desk with a powerful computer, two displays, its own backup storage, a multifunction printer, a mobile visualiser that also functions as a webcam to provide remote access to the classroom, for example in hybrid learning.  In addition, some classrooms are equipped with a 3D printer. For presentation, teachers then have not only an interactive whiteboard and mobile interactive display in their classrooms, but also a digital whiteboard that allows them to save all their whiteboard notes digitally or share them in real
time on any device from smartphones, tablets, laptops to desktop computers.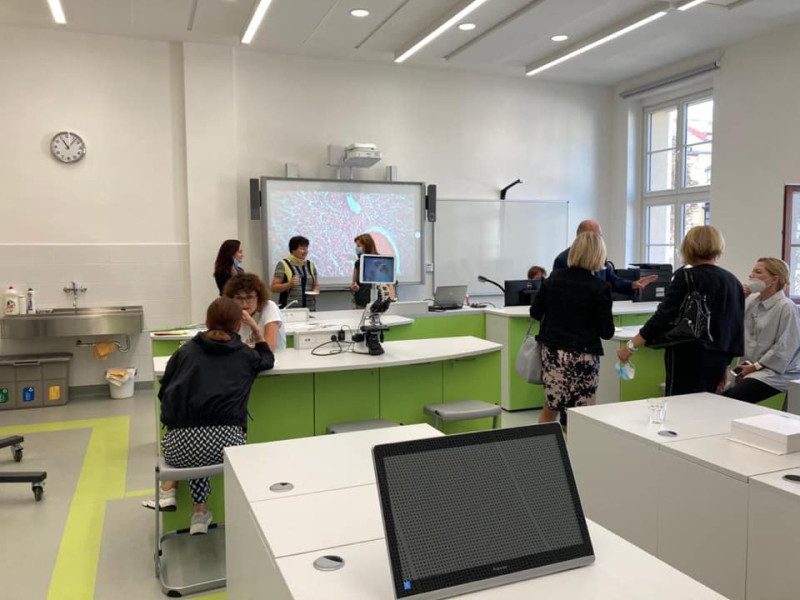 Specialist 3D classroom
The classroom enables 3D reality education and is equipped with 3D student workstations for full-time and on-line Sprout education and 3D printers. Thanks to 3D scanning, pupils get a faithful digital copy of the physical model, and with the use of special programs, the scanned inputs can be remodelled, i.e. completed, repaired and then printed out. Or students can try 3D fluid animation, which is used in filmmaking, and they can learn to prepare technical visualisations or virtual simulations in addition to photo editing or video editing. These are skills that are and will be in high demand in the 21st century world and sought after by the pupils' future employers.

A multifunctional classroom for face-to-face and on-line learning
In the yellow classroom you can virtually connect and collaborate with other schools and entities and work with unlimited presentation space. The design of the classroom allows you to use this space either as a regular classroom for 30 students or as a conference room for 50 participants. The furniture is stackable to allow the classroom layout to be rearranged as necessary. Pupils can use 15 portable touchscreen all-in-one PCs in this classroom, which are ideal for group or project activities. The large interactive display is equipped with a rotatable, remote-controlled webcam and attention has been paid to the acoustics of the room, too. Ideal for remote expert involvement in teaching, collaboration with industry or abroad, but perhaps in today's situation also for blended learning. At the College of Information Studies (VOŠIS) and Secondary School of Electrical Engineering, Multimedia and Informatics immediately after the opening the ILC, they have already used the classroom to move an originally planned international conference in Barcelona, Spain, to an on-line environment.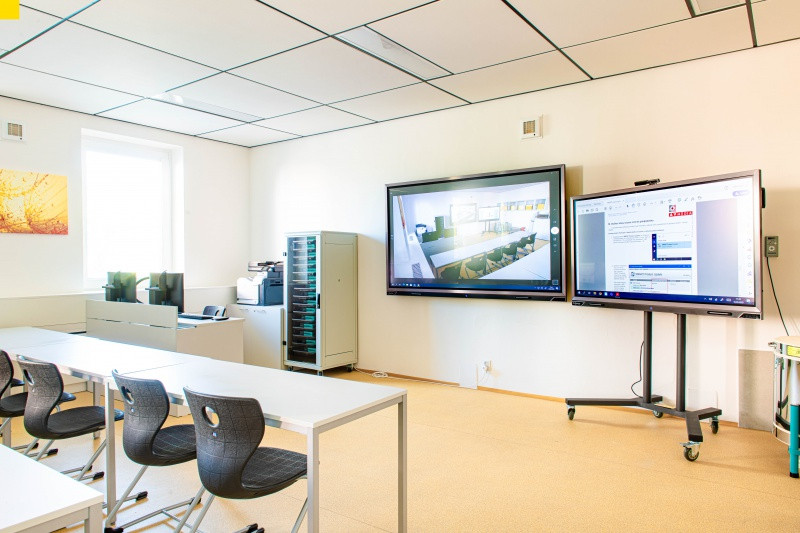 Multimedia classroom
This classroom is actually a modern version of the computer room and serves primarily for individual work with students, but also allows communication and interaction controlled by the teacher. It is equipped with desks integrated with fixed PCs and with slide-out displays of sufficient resolution. Each pupil is also provided with a good quality headset with microphone and webcam. The Robotel SmartClass+ system is used both for monitoring and managing the lesson and gives the teacher a wide range of activities, especially for language learning. But teachers whose subjects involve graphic work, technical drawings, etc. also like to have lessons here. Even though each pupil has a monitor in front of him or her, there are parts of the lesson where the teacher needs to focus the students´ attention - with one click, the pupils' monitors go black and they can work together on a large interactive display, for example.

Mobile digital classroom
This classroom was designed as a large central classroom to support group learning. Such as the modern exploratory way of teaching across science subjects, where pupils do experiments on their own to unlock the secrets of nature, work in groups with sets of sensors, process the results on laptops and then present the results to the whole class on an interactive whiteboard. Similarly, they can engage in robotics, just real STEM learning in its entirety. In addition to the instrumentation and wiring, we have adapted the furniture to this way of teaching as well. But the children can also take the mobile kits out into the field with their teacher. This is teaching based on experimentation, motivation, the creation of their own ideas, opinions and discussions. This develops children's self-confidence and builds a healthy personality.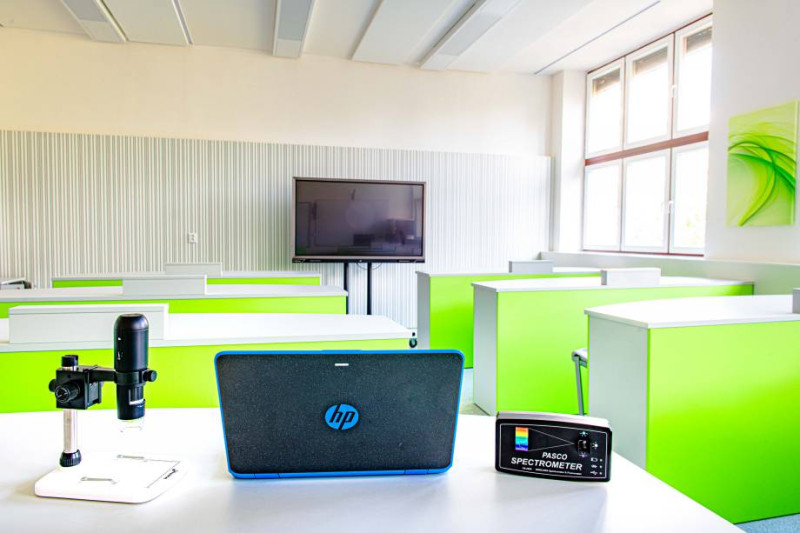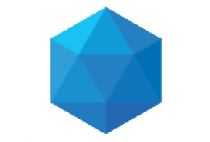 College of Information Studies and Secondary School of Electrical Engineering, Multimedia and Informatics, NOVOVYSOČANSKÁ, PRAGUE 9
Would you like a similar solution?