Boothless cinema v Rychnově nad Kněžnou
A New Multifunctional Auditorium With the Boothless Solution and the Mobile Elevation System
Another boothless cinema solution was carried out in Rychnov nad Kněžnou. This solution is appropriate especially for smaller and atypical premises. The projector is housed in a special acoustic box suspended under the ceiling in the rear part of the hall. 
What is more, the multifunctional auditorium in Rychnov nad Kněžnou is another hall with the integrated mobile elevation system. This elevation system makes it possible to adjust the auditorium in order to meet the needs of the events held. The elevation system can be easily folded and the auditorium floor can thus be used for balls, dance classes or performances for children.
Integrated technology includes: 
Laser projector NEC NC120L-A
DCI server NEC NP-90SM02
7.1 sound system (DataSat AP20, MAG, Crown)
DepthQ 3D system using the circular polarization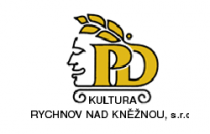 KULTURA RYCHNOV NAD KNĚŽNOU S.R.O.