NEW THEATRE DELUXE (TDL) AUDITORIUM IN THE ČERNÝ MOST CINESTAR MULTIPLEX
Within the Cinema Next Group, we installed the first PLF (Premium Large Format) screening auditorium in the Czech Republic.
The auditorium No. 9, which has so far been known as the screening hall with the best playing Dolby Atmos sound system in the country, now boasts as the first of its kind in the Czech Republic of the Sphera Cinema concept, i.e. the solution for premiere auditoriums. This solution is generally known as the Premium Large Format (PLF) and also includes the Imax or Dolby Cinema screening halls. This unique auditorium which cannot be found anywhere else in the country is called CineStar Theatre Deluxe (TDL).
NOT ONLY BRILLIANT PICTURE AND EXCELLENT SOUND
The great picture and the perfect sound already became a standard for every new screening auditorium. The Theatre DeLuxe solution has, however, much more to offer. The combination of the installed 4K RGB laser projector and the huge 19 metre-wide projection screen will literally dazzle you. Laser projectors stand out especially thanks to their picture quality, long service life and low operating costs. Viewers will not be fascinated by the picture quality only, but also by wonderful colours and perfectly depicted details of the image (contrast ratio 6,000:1). The viewing area was extended to take as much as possible of the front wall area and to allow viewers to enjoy a perfect movie experience. The auditorium is now ready for the HDR content giving the viewers an intense movie experience thanks to the enhanced range of colorus, higher contrast, double brightness and sharper 4K picture.
VIP SEATS
We also delivered and supplied 386 new VIP reclining seats with revolving tables on which the viewers may put their drinks and snack food. On the top of that, seats are covered with the reflection reducing material allowing the moviegoers to experience the utmost comfort.
AMBIENT LIGHTING OF AUDITORIUM
The ambient lighting on the auditorium sides make the auditorium atmosphere complete. It includes specially designed systems of vertical lights based on the addressable RGB LED chips. The system makes it possible to synchronize the content being screened and the light scenes, giving the viewers another dimension of the movie.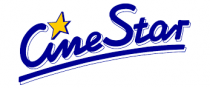 CINESTAR
Would you like a similar solution?