VIDA! science amusement park
The modern science amusement park for the whole family extends over an area of 5,000 m2. Interactivity plays the main role with visitors touching the exhibits.
Science parks, IQ parks, science centres, all of this are synonyms for today's educational facilities, the exhibits in which have a sole purpose. They are intended to motivate, in an entertaining form, the young generation to be generally interested in knowing and science. A science centre contains a considerable number of exhibits inviting to be touched and, generally, to play and discover. The new VIDA! science centre with 150 interactive exhibits is thematically divided into four main sections - Planet, Civilization, Man and Microworld. VIDA! does not neglect even its youngest visitors from two to six years, for whom the Science Centre for Children is prepared with a number of exciting exhibits enhancing the child's mental and motoric development. In the new science centre, the whole family will play.
Four main thematic categories
The VIDA science centre is divided into four main thematic sections. Planet, Civilization, Man and Microworld are distinctly distinguished by colours and their integration is underlined by a kind of lighting river flowing along the exhibits. Generally, the river is composed of tens of gobo projectors with accentuated motives, with transitions between them created by means of playful interactive projections.
Planet
How the planet works as a whole? What are the relations between global phenomena and local behaviour?
Civilization
The Civilization topic treats that part of our planet, which is intentionally changed by humanity to their own making by means of their intense work.
Man
This part of the exposition is focused on human body and the details of its working, human health, physiology of body organs, senses and the process of thinking.
Microworld
The intention is to demonstrate that the microworld is contained in all the above topics and therefore realize to what extent the world is intertwined.
Be educated and amused by new technologies
V-Pass system
Besides integration of most of audiovisual equipment, the delivery also contained the central system intended for management of the overall exposition. This system, pertinently called V-Pass (from Visitor Passport), provides a systematic solution of administration for multimedia exhibits regarding both their content and function. V-Pass can monitor the status of each (connected) exhibit, communicate with special interfaces, record and process images and videos from users, maintain the contents of exhibits, and do many other things. Via V-Pass, visitors can log in to their user profiles (assigned to each ticket containing a QR code), where they can record their "success" from selected exhibits. In this way, for instance a nice quotation, a photo or the achieved result can be saved. Using the "Social Wall", a summary of one's results can be displayed and, generally, the visitor's user profile utilized. In future, visitors will be even able to "take away" their collected data by means of an internet link in order to share them with their friends.
Special exhibits and projections
The VIDA! centre is largely inspired by internationally renowned fully interactive expositions, nevertheless, a number of genuinely original elements also appeared. The most exciting ones include "Touch the Light" (interactive floor with LED backlighting, on which visitors play cooperative games by touching individual tiles), "Round Table" (a general strategic engine is operated by means of twelve touch screens around the table, for instance when playing the Fishing game with the visitors sending out ships of different sizes for virtual fishing expeditions with the goal of maximizing the proceeds), "Timeline" (the system of immersive three-side projection with the visitors passing through a virtual shortcut along significant milestones of inventions, wars, population development, etc.), "Face Database" (based on a sophisticated algorithm, one's appearance is compared with that of other visitors), "Tree Frog" (visitors trying out how it feels to announce a weather forecast similarly to the TV).
Have a look at a video record from the opening ceremony at the VIDA! science centre in Brno (source: youtube).
AV MEDIA contributed to the project as subcontractor of Sun Drive, Mplus, Huttinger and Bruns.
Spolupráce s MPlus
Ani zkušenost někdy nestačí
Even experience may not be enough                   
Kateřina Soukupová, MPlus  
Though it might seem that the teams of MPlus and AV MEDIA are enough experienced in multimedia expositions for Czech science centres, the implementation at the VIDA! SC in Brno was capable of surprising us from its very beginning. We became a part of an international team led by the Brno company SUN Drive as the general contractor. All of us were brought together mainly by being aware that we had undertaken, within a relatively short term and with considerably restricted funding, to delivered a large amount of work.
As the design documentation for the exposition was a result of joint efforts by Projektil architekti and K. Hüttinger (one of the vendors) with a participation of AV Media, we hoped that in case of technical doubts, our international team will jointly find a solution. However, as it revealed, the reality was different. The technical design of exhibits was, from a greater part, just an unconfirmed idea, in many instances never implemented so far. Our questions about details usually ended with such a general constatation. 
Fortunately, we know how to cope with such situations.
The surprising situation brought about an unexpected necessity of technical development of models, their detailed design solution and also additional requirements on time and costs. The initial months, instead of collaboration and preparations, saw our struggling with the future user concerning every detail of each of 48 exhibits to be delivered, as we were laboriously progressing towards their final technical and material design. A chapter for itself were negotiations on the contents of screens and projections. As another unpleasant surprise, we had to accept the fact that a major part of background materials and texts associated with multimedia contents had to be provided by ourselves.
We are opening……
As the time went, the tension grew, but, at the same time, we were gaining solid ground under our feet. On the deadline for opening of the VIDA SC on 28 November 2014, the area of the former exhibition hall D within the Brno Fair Grounds contained all 153 exhibits, ready in their zones distinguished by colours. The third of the models delivered by us was fully functional, including their multimedia contents, and our teams were enriched for plenty of new knowledge. Thanks to this experience, we can newly offer not only a tornado, an extensive functional castle model, or a weather forecast studio, but also a light playing grid controlled by feet, a giant piano or globe, as well as many other interactive exhibits, the setup of which is the result of our own development and efforts.
Although the spatial and architectonically creative concept of the VIDA SC presents no consistent exposition filled with stories, as a whole, it works freshly and attractively and is certainly worth visiting.
The following items have been installed:
55 reading cameras
64 touch monitors
25 projectors
46 GOBO projectors
65 computers
161 scenic lights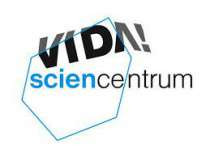 The VIDA Centre was opened on 1 December 2014 as part of the Moravian Science Centrum Brno (MSCB) concept in one the BVV (Brno Trade Fairs) halls.
The MSCB project was being developed during several years and its preparation started in 2009. During the preparatory phase, over two hundred concepts of various exhibits were prepared, from which the winning Projektil architectural studio selected 151 most interesting ones, which were finally implemented by Sun Drive. AV MEDIA thus created a total number of 57 multimedia interactive screens for the corresponding exhibits. The intention of the project was to bring science and research nearer to as wide a range of potentially interested people as possible, in particular to children and youth, and thus create conditions for the increase of numbers of students and graduates of natural science and technical lines of study at Czech technical secondary schools, colleges and universities.