Science on a Sphere at Techmania in Pilsen
The Science on a Sphere project is one of the most remarkable innovations in education. Its contents are available to the wide public.
As the first in the Czech Republic, the Techmania in Pilsen boasts with the unique Science On a Sphere technology. As the first in the Czech Republic, the Techmania in Pilsen boasts with the unique Science On a Sphere technology. It involves projection on a spherical surface with a diameter of 1.7 m making use of the data from the U.S. National Oceanic and Atmospheric Administration (NOAA). This type of data is used to create combined events which become part of school educational programmes.
The Science on a Sphere project is an interactive exposition interesting for its visitors not only because of the technology and the wow effect but, most importantly, because of its contents. Spherical results related to measurements of various phenomena over the globe are presented on a physical projection sphere embodying the Earth, around which people can quite naturally walk while exploring it, looking at it and controlling it. Globally, this kind of spherical cinemas emerge, offering a wide range of applications.
Video: Science on a Sphere, source Youtube channel
AV MEDIA initiated the interest in this project in the Czech Republic. At first, we demonstrated a prototype of the SoS project at several places. This kind of activity is generally interesting for planetariums and science parks. Finally, the people from the Pilsen's Techmania proved most flexible. The project was adopted there and the new exposition with the special technology was opened on 4 November 2013. The planetarium, similarly to the whole Techmania centre, is focused predominantly on personal involvement of visitors. Interactive touch screens allow the visitors choose the film they wish to see on the projection sphere.
The Science on a Sphere project exploits new trends in technologies and invites visitors to an interactive exposition that they can not only explore, but also control. In that way, digital technologies have a significant value for museums and galleries.
More about the programme on the Techmania website.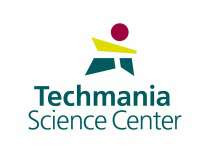 TECHMANIA SCIENCE CENTER PLZEŇ
The Techmania Science Centre in Pilsen is a unique project within the Czech Republic, an experimental station for those wishing to know more, presenting an ideal synthesis between an informal educational platform and a popular touristic destination. The objective of Techmania is to help the public, in particular scholars, students and families with children, to find and develop their personal relationship towards science and technology and, on a general level, discover the opportunities of human understanding to the world. The Techmania Science Centre composes a comprehensive city zone dedicated to popularization of scientific and technical topics. It covers nearly 30,000 m2, including also the first Czech 3D planetarium. The science centre systematically offers both permanent and temporary expositions strongly focused on interactivity. Physics, chemistry, mathematics, astronomy or biology are also frequent topics of popular science shows or workshops.