CINESTAR IN ČESKÉ BUDĚJOVICE PROVIDES 4K, DUAL 3D AND DOLBY ATMOS TO ITS VIEWERS
9 Screening Halls with a Total Capacity of 1,367 Seats
CineStar has opened a total of nine screening halls with a total capacity of 1,367 seats in the newly built-up IGY shopping mall in České Budějovice.
The largest screening hall for up to 316 viewers is the screening hall No. 1 offering the 3D sound format Dolby ATMOS and, for the first time ever among the CineStar multiplexes in the Czech Republic, also the Christie CP4230 projector with the 4K native resolution.
The 4K projector Christie CP4230 is also installed in the screening hall No. 4, which remains so far equipped with the 7.1 sound system. The cinema owner designates it as "ATMOS Ready". The loudspeaker cables have already been prepared in the walls and the ceiling and the sound processor Dolby CP850 has been installed in the projection booth. If the viewers show a higher interest in Dolby Atmos, the cinema owner will refit this screening hall with loudspeaker systems and terminal amplifiers, activate the licence and make the Dolby ATMOS format operational here, too.
Both screening halls allow the 3D stereoscopic projection via the DepthQ system.
But CineStar in České Budějovice has more new features in store for its viewers. The screening hall No. 3 is the first hall among multiplexes in the Czech Republic, which is equipped with the dual projection for the 3D stereoscopic projection. The dual projection system is formed by a pair of Christie CP2215 projectors, each of which projects a movie through one polarization filter of the Volfoni SMART CRYSTAL system. The dual projection system allows the most correct projection of the 3D stereoscopy of the picture.
In the remaining six screening halls, the 7.1 sound system and the Christie CP2215 projectors are installed. In addition, the DepthQ 3D technology can be found in the screening halls No. 2 and 9.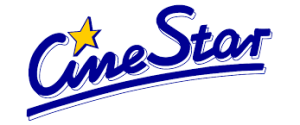 CINESTAR
The CineStar multiplex network was formed in the Czech Republic in 2001. With its twelve multiplexes, the network belongs to the biggest ones in the Czech Republic (multiplexes can be found in Hradec Králové, Olomouc, Ostrava, Jihlava, České Budějovice, Plzeň, Liberec, Mladá Boleslav, Pardubice, Prague - Anděl and Prague - Černý Most). Multiplexes are equipped with the state-of-the-art projection technology and the perfect Dolby Digital and Dolby Surround 7.1. sound systems. All movie theatre complexes also have the 3D technology installed in a few screening halls of each multiplex and some multiplexes even offer the HFR projection technology.