New building of Zličín Primary School and Kindergarten - Technology, Design, Teaching
New school interior full of the latest technologies with a great emphasis on professional classrooms and multifunctional teaching. Take a look inside a few of them and get inspiration for your school.
On 28 August 2020, there was an opening ceremony at the new primary school building in Zličín. The school currently holds five hundred and forty pupils from first to ninth grades and offers modern equipment. The school has a total of 18 classes of the primary school (grades 1 to 5) and the lower secondary school (grades 6 to 9), including boarding, after-school club and sports facilities. The building also has all technical equipment. Among other things, there are a number of special classrooms, such as music, art, computer, language and physics.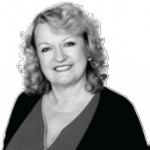 Mgr. Vladimíra Šimáčková, headmistress of the Zličín Primary School and Kindergarten
"I have always been convinced that not only the people but also the aesthetic level of a school plays a big role in education. I wanted not only the pupils, but also the teachers and other school employees to feel good here. I also thought we were building an environment not for the next 10 years, but maybe even 50 or more.
I looked to schools in our country and abroad for inspiration for the building's furnishings and equipment; for example, the layout of the computer room in London seemed most effective, and the pupils' art classroom desks in Sweden appealed to me most.
The construction of the four-storey building took almost a year and a half. Now that it is finished, I can say that some of the designs actually look even better than I imagined. The extended first grade classrooms have original student desks that can be arranged in different shapes to suit the needs of the teacher. I consider the language lab, robotics workshop, science and art classrooms to be our "Top" classrooms."
Language lab
Workplaces for 4 students allow working in groups. The teacher remotely controls the workstationson electric extensions. Pupils use the Robotel SmartClass for foreign language learning and use headphones with microphone to communicate with each other. In this way, the lab strongly encourages communication skills in a foreign language.
Computer room
Airy, versatile and flexible

The classroom is equipped with comfortable ergonomic workstations with height-adjustable tables and chairs. There are monitors and keyboards on the desks. And that's it. Where are the computers? All-In-One computers are incorporated in the monitors, so the classroom is seemingly computer-free. The hidden cabling contributes to the cleanliness of the interior, as does the interactive whiteboard for maximum teaching efficiency.
In the robotics and polytechnics classroom
children develop their creativity and logical thinking skills.

During STEM lessons, students have a computer and a VEX robot kit to build their own robot. They program it themselves and then control it using the remote control. To this end, they have a playing field on low cabinets. In addition to their regular learning tasks and projects, they can practice for the VEX Challenge competition. There is also another modern field - 3D/VR. There is also a place for ClassVR glasses, an educational system designed specifically for school teaching that uses both virtual and augmented reality. The robotics classroom is equipped with workshop desks, which are suitable for both individual and group work, and the necessary equipment for "traditional workshops".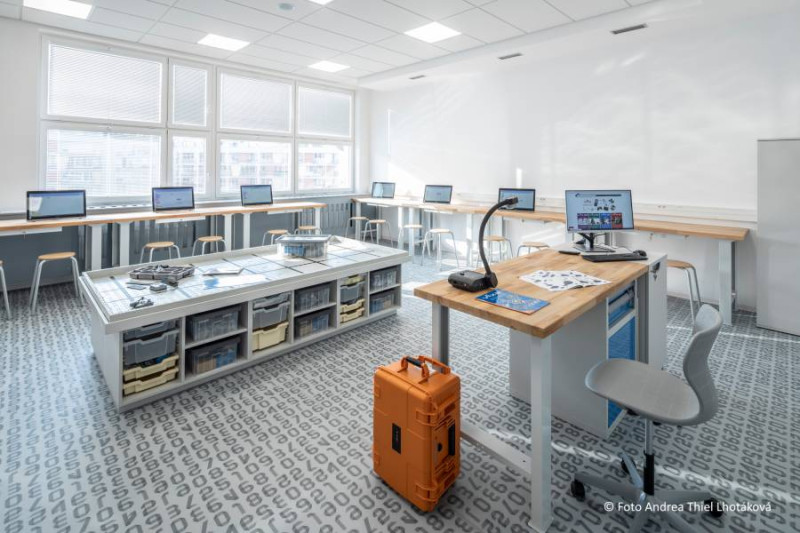 Tribal classroom
each time differently.
Single-student desks have a rounded asymmetrical shape, can be easily moved and assembled into various configurations. This allows the teacher to adapt the classroom to the needs of a particular lesson. Part of the classroom is a game corner with mobile bookshelves and seating cushions. SMART interactive whiteboards are, of course, already included in standard equipment.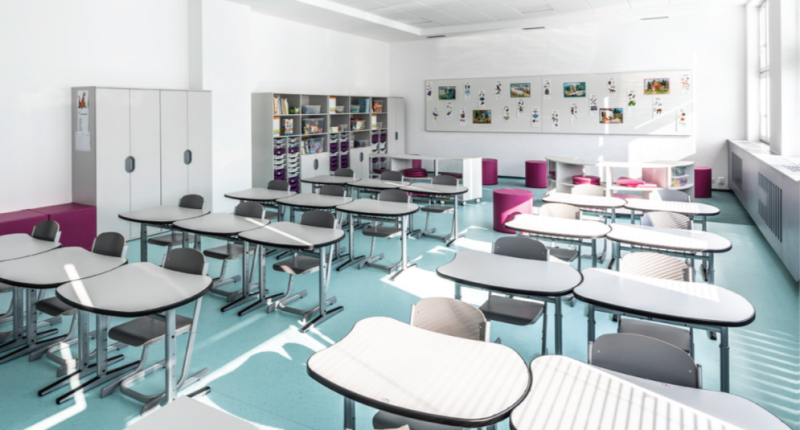 More than just a library...
The airy and open library space literally invites you to read and study. Do you want to read a book? Simply choose the one you like from the shelf or mobile cabinet (the so-called book tower) and get yourselves comfortable on the soft cushion. For studying purposes, we have placed mobile benches in various rounded shapes in the library area. They can be assembled to form a circle, wave or other shape suitable for teaching small groups of students. There is also an interactive whiteboard, which is used for presentations, e.g. for parents or at various school events, but above all, children with a different mother tongue are regularly taught here.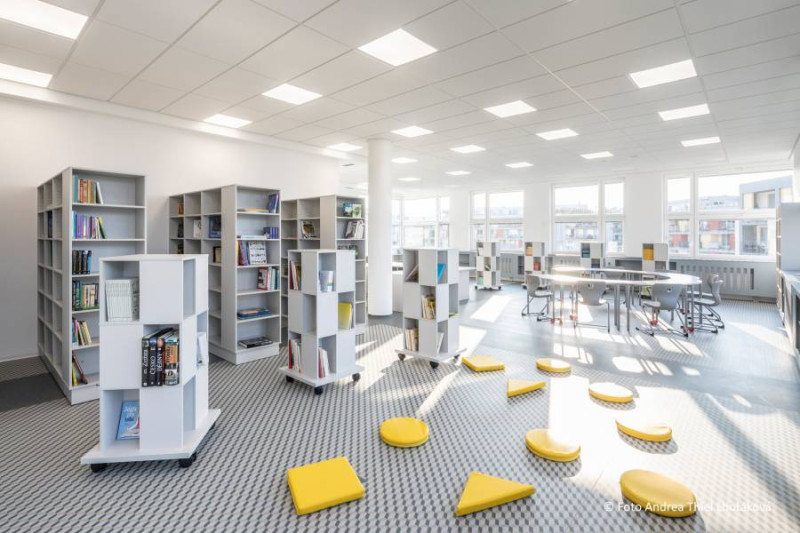 Would you like a similar solution?