Operational departments of FRS CR
At the end of June 2015, two newly furnished facilities of the operational and information centres have been handed over to the General Directorate of the Fire and Rescue Service of the Czech Republic.
"The new audiovisual technology allows more efficient communication to operations officers as well as team cooperation between the General Directorate and regional operational and information centres of FRS. In addition, it allows efficient control of external communication with emergency forces of the Czech Republic and international organizations involved for example in humanitarian aid or emergency response," Col. Zdeněk Merta , Chief of the Operational Centre of GD FRS CR, opens our interview.
Operational and Information Centre
The Operational Centre is a nationwide operational and information centre of the Integrated Rescue System (IRS).   In doing their tasks, operations officers fully utilize the large scale video screen for visualisation and sharing of required information. The sophisticated AV signal processing technology with linked system of visualisation units allows transmission of video and voice data directly from workstations of operations officers as well as other workstations for meetings of task forces at the General Directorate.
In addition, videos from current TV news, such as ČT24, as well as GIP maps, videos from CCTV systems, outputs of information systems etc. can be displayed on the screen. Operations officers can customize the layout of seamlessly displayed data using CUE touch panel with tailored display management system.
GD FRS Headquarters
Layout of GD FRS Headquarters follows the layout of the operational centre. Operations officers can view in full all video information shared on the large scale video screen.  In addition, audiovisual and communication technology of the headquarters is optimized for intensive discussions and communication during emergencies.
Broad video-conferencing solution by Cisco is available for remote communication. One of the cameras records meeting participants by the desk and the other records the presenter by the SMART interactive display which allows active participation of local and distant parties. Data can be shared interactively during the meeting, such as Word, Excel, PowerPoint, Internet Explorer, PDF documents, GIS maps etc. Individual meetings are recorded and archived as required on the multimedia Telepresence Content server. The meeting desk includes two integrated pop-up screens used by operations officers for data sharing from individual workstations of the operational centre or from the presentation PC.
The AV technology is easily controlled by the control system with CUE touch panel. The panel provides selection from two principal work scenarios for video conference and presentation. At the beginning as well as during the meeting, the touch panel allows manual setup of individual requirements for the room management, such as lighting, sound or presented data.
Task Force - small meeting room
The facility is designed for emergency and crisis management purposes. Officers appointed to task force teams meet on regular basis within their daily and weekly coordination activities or common training. The AV technology supporting complex rescue activities is used in normal operation allowing constant verification of their availability and preparedness for active use.
The chairperson input of the integrated audio conferencing system Televic Ize enables switching for entry of individual participants or making automatic applications for entry by the application button. Such easily managed discussion guarantees optimum understanding with distant participants.
Task Force - large meeting room
 The facility is designed for large scale emergency or crisis management purposes, e.g. natural disasters. However, even this facility allows daily use of full AV technology - audio-visual signals, interactive cooperation and sharing of data as required for local and distance practice.
 "Provision of assistance to population in emergencies is one of the main missions.  The AV technology facilitates this work thanks to better input emergency call data processing, acquisition of video information from accident site, data sharing, acceleration of all necessary tasks and transport of response forces and equipment to the emergency site as well as communication between activated task forces," Col. Zdeněk Merta closes our interview.
 Video-conferencing system of FRS CR
 Individual rooms are equipped with Cisco terminal video-conferencing components integrated into a comprehensive AV solution. Depending on current needs, any of the rooms can be used to communicate with external partners anywhere in the Czech Republic or abroad (typically coordination role of OIC GD FRS CR in international humanitarian aid provision).
 The said principle can be well demonstrated on videoconference communication between regional offices of FRS and the Headquarters. All regional offices can join a multi-party managed videoconference with the chairperson controlling contributions of individual participants using the CUE control system which automatically sets the microphone and switches video to the speaker. In addition the videoconference camera in the meeting room of the GD FRS automatically turns to focus on the meeting participant who pressed the microphone button of the Televic conference system.
Infrastructure of the teleconferencing system is fully linked to the Cisco IP telephone infrastructure allowing independent connection of existing videoconferencing units with the telephone system (internal telephone system, mobile operators) and mix audio and video sessions within point-to-point or multi-party connections.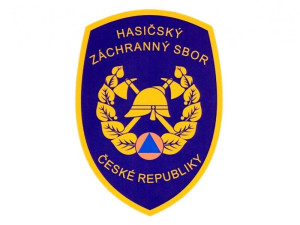 GŘ HZS