SAP is in new headquarters - the Metronom has come to life!
SAP is well-aware that its people and informal corporate culture play a key role in its success.
Therefore, it has invested in the work environment, deploying SAP Services, SAP Ariba and Concur in a new building to create their common future. The purpose of one of the largest moves on the market was to improve communication between staff and across various teams in the new premises, thereby creating greater synergy and creativity. One of the values of SAP's corporate culture is that management listens to employees and tries to meet their needs. This project demonstrates how SAP designs workspaces with people for people. The building was actually designed in collaboration with employees to meet all their needs. They shared their visions, wishes and demands for a new building at workshops, including the work environment, equipment, design, and names of each floor in the building and meeting rooms. The goal was to create a common future of SAP as the largest cloud company on the market.
DIGITAL GENERATION
The generation of the so-called Millennials today uses software completely differently and needs to be able to work flexibly from anywhere, anytime and from any device. They are used to the most modern forms of communicating and cooperating. They not only require this from SAP's software solutions, but also gtom the workspaces for existing and new colleagues.
Is SAP ready for these changes? What technologies will SAP use in 2020? Will SAP be a major player on the market in the years to come?
Perhaps our recent move and the SAP ONE concept greatly helps in this regard, whose main goal is to connect the SAP teams from SAP Services, Concur and SAP Ariba in the Czech market closer together under one roof.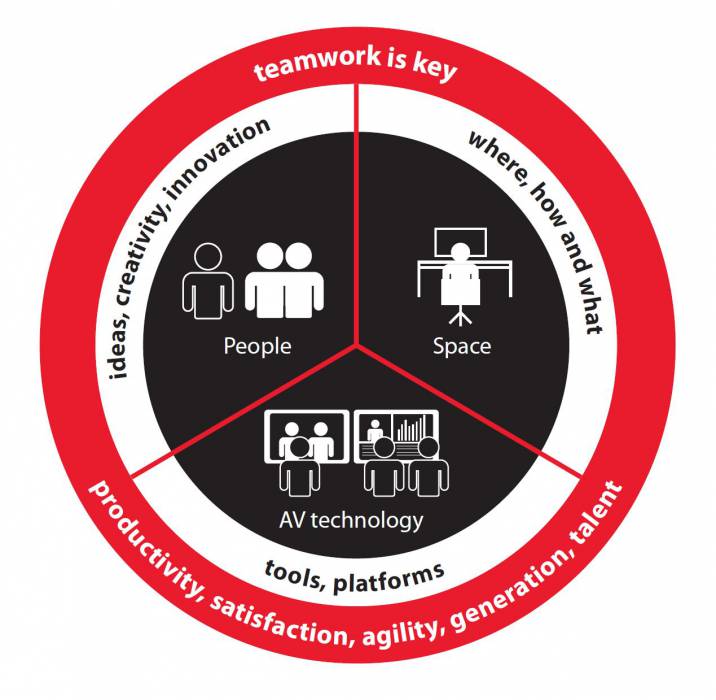 PEOPLE
"People are absolutely the key to our business, so one of our top priorities is to ensure they feel good at work, in order to concentrate, rest and feel free and natural. We believe that employees can provide good intellectual and creative work at the same time. The challenges we face today require a new way of thinking and a very different working process. With AV Media, we have been able to interconnect workspaces with audio visual technologies to encourage creative behaviour and teamwork," commented Andrea Hepner, Director of SAP Services.
PREMISES
Employees were involved in designing the new premises from the very beginning, and they were able to influence the specific design of the interior, including the equipment. Although this may not seem to be the case, workspaces have a major impact on the employee's work and motivation. Attractive and original offices inspire and stimulate employees to perform better, resulting in increased productivity throughout the company. The premises have been designed with an emphasis on a flexible way of teamwork and reflect the true preferences and interests of our people.
AV TECHNOLOGIE
"In the new SAP building, you can't fail to notice the modern audio visual technologies ranging from simple telephone booths, teleconferencing rooms and creative workrooms to rooms for working with our global teams," said Ondřej Fanta, Facilities Services & Project Manager.
LCD screens of various sizes are prominent in the several dozen meeting rooms designed for sharing digital content from laptops or mobile devices. Space in the Customer Experience Zones (a zone intended for meeting with customers) are equipped with SMART iQ Pro interactive displays that can share digital content like on LCDs, but also write on, make remarks on and present the final results instantly in the presentation to share with all participants in a digital form. These interactive displays replace analogue paper flip charts and simply handle remote communication during videoconferencing. The benefits of interactive displays are their versatility, they can be used for full cooperation, support creative thinking and actively connect remote international teams
"The Auditorium is on the same floor as the Customer Experience Zone. It's a common space that can accommodate up to 400 people in a theatre formation. Front projections and electric screens are used in the open audience mode. To cover the viewing distances of the rear viewers, up to four auxiliary viewing displays suspended on ceiling mounts can be used. The PTZ camera is installed in the Auditorium for the purpose of capturing the speaker, and the scanned images can be streamed online or a video recording can be made," added Ondřej Fanta during a tour of the Auditorium.
The auditorium can be quickly divided into four smaller separate rooms for customer workshops or for work meetings for several SAP teams. In this case, four suspended side projections on fixed hinges can be used.
There are four touch control panels located along the walls of the Auditorium For easy control of the entire Auditorium or its individual parts. It is also possible to control all technology via the tablets. On a touch panel or tablet, the user can set up video and audio sources or call up pre-set scenarios (presentations and video conferencing). After selecting the scenario, all AV components will automatically adjust to the appropriate modes: for example, the projection is switched on, the electrical screens are automatically turned on, lighting levels and the outdoor blinds are closed.
"Properly selecting and correctly placing AV technology can transform meetings into a very attractive form of communication, even with remote participants. AV technology changes the standard meeting room, enabling individuals and teams to truly collaborate and interact with each other," noted Ondřej Fanta when concluding our interview.
SAP ČR, SPOL. S R.O.