Euroseeds conference at the Hilton Prague Hotel
At the Hilton Prague Hotel, we participated in organizing the Euroseeds 2021 event, which took place in a hybrid format.
Plant cultivation and innovations or the Green Deal and other topics related to the environment. This is exactly what the Euroseeds 2021 event was about. It took place in October 2021 and was scattered throughout the entire premises of the beautiful Hilton Hotel, which the name of the event captured perfectly.
While the main part of the programme, i.e. the conference, had its place in the Grand Ballroom, visitors could admire the exhibitors' stands in the Congress hall. Small lounges separated from the halls served as a space for individual meetings between the exhibitors, and visitors and exhibitors could chat there in peace.
Because the Euroseeds event took the form of a hybrid event, some of the participants arrived in person at the venue while some joined online via the popular Zoom platform.
The AV MEDIA EVENTS team provided a lot of professional equipment at Euroseeds 2021. For internal meetings, we provided our conference microphones and PTZ cameras, which automatically monitor the speaker at all times. Thus, when the speaker walks around the room during his/her speech, the PTZ camera does not take its eyes off him/her, and the remotely connected participants thus know all the time what is happening.
Remote participants watched external lectures via the client's platform.
The premises of the Prague Hilton Hotel did not disappoint again and provided an excellent background for the Euroseeds 2021 event. We would like to thank for the cooperation and we look forward to the next joint event.
Check out the event details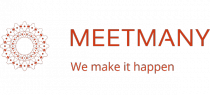 MEETMANY
Do you want a similar event?